The Porter family moved to Pittsburgh from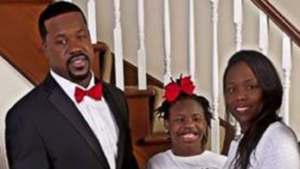 Bakersfield, California as Founder Christy Porter's husband Joey Porter began his illustrious football career with the Pittsburgh Steelers.
This tight-knit family shares a strong bond spearheaded by their daughter Jasmine Nyree. The bond fostered the development of their unique "Why."
Jasmine Nyree Porter was born with Autism, leading the Porter family down a path of empathy and a passion to serve all families and the special needs community.
In December 2019, Christy and Joey Porter acquired the Holy Innocent's Parish and renamed the 108,000 sqft property the Jasmine Nyree Campus.
The Jasmine Nyree Campus is a multi-service campus and community center designed to address multiple needs in the community including residential services, recreational, educational, and more.
The campus has several locations in California since 2003 and has operated private, for-profit and non-profit educational centers for over 15 years.
For campus updates, you can stay informed here by following the Jasmine Nyree Campus on Facebook & Instagram where you can also sign up to receive our newsletter and E-blasts!